UPDATE 12/5/18: Results from a five-year study published in the Journal of the American Heart association on December 5, 2018 shows that people who live in neighborhoods with green space have a lower risk of cardiovascular diseases such as heart attacks and strokes.
Science Daily writes, "Over five-years, blood and urine samples were collected from 408 people of varying ages, ethnicities and socioeconomic levels, then assessed for biomarkers of blood vessel injury and the risk of having cardiovascular disease. Risk was calculated using biomarkers measured from blood and urine samples….The density of the greenspaces near the participants' residences were measured using the Normalized Difference Vegetation Index (NDVI), a tool that indicates levels of vegetation density created from satellite imagery collected by NASA and USGS. Air pollution levels were also assessed using particulate matter from the EPA and roadway exposure measurements."
Read more: Neighborhoods with more green space may mean less heart disease
It's not hard to believe living among trees and near parks is good for our sense of well-being. But it goes beyond personal preference and is rooted in reality.
Green space makes us happy
According to Fast Company, "More and more research shows a relationship between green space and higher levels of mental health." This is backed by a study from the University of Wisconsin-Madison in which researchers asked 2,500 residents about depression, anxiety, and stress, then analyzed 229 neighborhoods for vegetation cover. Their conclusion, "Those places with more trees tended to be happier, and the association was 'significant and sizable.'"
Living near a park makes us healthy
Trees in your neighborhood increase the chances of your being happy and healthy. MedicineNet.com cites a recent study that suggests women with parks near their homes are more likely to meet physical activity guidelines, less likely to be obese, less likely to watch TV 4+ hours a day, and more likely to have a lower body mass index (BMI).
Nature gives us longer life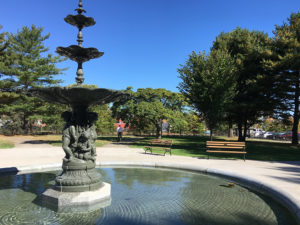 With nature by your side, not only are you more likely to be happy and healthy, you're more likely to live longer. CNN cites an 8-year study that says living near nature is linked to longer lives. For the study, 108,000 women were examined, however, researchers believe the same findings would be true of men. CNN reports the team "compared risk of death with the amount of plant life and vegetation near the women's homes and found that women living in the greenest areas had a 12% lower death rate than women living in the least green areas."
A sound investment provides us peace of mind
Due to the recent development boom on the peninsula, Portlanders are beginning to learn what New Yorkers already know well: a park can ensure future developments won't rise up in the space outside your home—space that gives light, fresh air and a green view. While having an address on Central or Prospect Park is a significant investment, "In New York, a View of Even a Small Park Adds Value." Moreover, "Unsung green spaces can claim near-equivalent benefits: In addition to extra light and sky, many offer playgrounds, dog runs, farmers' markets, a bench to read a book, or a lawn for a picnic."

Verdante offers not one park, but eight
Lincoln Park is directly across Franklin Street from Verdante, but within a ten-minute walk you'll find seven more green spaces.
The Eastern Cemetery, the oldest historic landscape in Portland, is just a 4-minute walk from Verdante. It has 4,000 marked graves, some dating back to the early 1700s. It's mostly grassy, affording views out over Portland Harbor. A good spot for a walk and reflection or historical review.
Post Office Park and Tommy's Park at the intersection of Exchange and Middle Streets are classic city-corner parks where you'll often find street performers. Plenty of benches make for good lunching or lounging spots—not to mention people-watching.
The Bayside Trail is an urban trail along a 13.2-acre former-railroad property. Just a 10-minute walk from Verdante, it connects Deering Oaks Park and the Easter Promenade Trail, and is a few steps from the Back Cove Trail.
The southern end of the Eastern Promenade Trail is an 8-minute walk from Verdante. It offers wide paved lane as well as a gravel path, and follows the shoreline of the Portland peninsula. Views of Portland Harbor and Fort Gorges can't be beat.
The side garden at First Parish Church is a 7-minute walk from Verdante—a tranquil spot for reading or lunch.
The Longfellow Garden at the Wadsworth-Longfellow House is a hidden gem 10 minutes from Verdante. Nestled between buildings, the Colonial Revival style garden is a quiet oasis just steps off Portland's most central street.