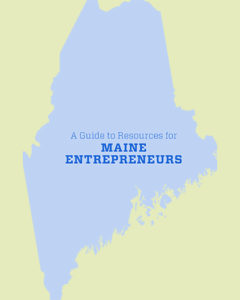 Several years ago, Susan Morris of NewHeight Group identified a personal need to better understand what resources were available to Maine's entrepreneurs – and she did something about it. She created A Guide to Resources for Maine Entrepreneurs, which is now available in its 4th edition, to help entrepreneurs connect the dots when it comes to finding and leveraging available resources in Maine.
The purpose of the guide is to be a starting point for entrepreneurs seeking resources within Maine. It is also designed to help individuals and businesses who support entrepreneurs and startups so that they can more effectively surface the right resources at the right stage of launch, growth or maturation of a company.
A Guide to Resources for Maine Entrepreneurs features information ranging from technical assistance and mentoring, to financing and co-share workplaces, to advocacy. It also provides a calendar of relevant annual conferences in Maine. And that's just the beginning. It's truly packed full of resources – and it's available free of charge online, Download the Guide to Resources for Maine Entrepreneurs. Hard copies may be ordered for a small fee and a free guide will be given to every participant at Startup Maine, June 21-23 in Portland.