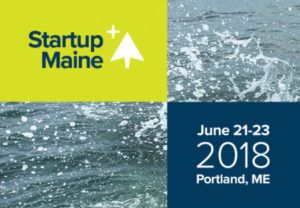 The NewHeight Group team believes part of the responsibility (and joy) of living and working in Portland is supporting its economic vitality. One way the firm does this is by helping to plan, sponsor, and attend events such as Maine's flagship event for entrepreneurs, Startup Maine.
Taking place June 21-23 in Portland, this event is about starting high-growth potential businesses, redefining the conventional wisdom of what an economic center looks like, and imagining what can be achieved in Maine.
At a modest $48 three-day ticket price, attend all or parts of three days of workshops, case studies, speakers and networking opportunities, all tailored to those who are building and growing a company. Keynote speakers include Ben Shaw, CEO of Vets First Choice, Dr. Patti Fletcher, CEO and Chief Storyteller, PSDNetwork, and Nate Fick, CEO, Endgame. For further details, a full schedule, and registration, visit startupmaine.org.
Some amazing entrepreneurs and business owners have chosen to call 118 on Munjoy Hill or Luminato Condos home – and it is predicted the same will occur at Verdante. It's an honor to call them neighbors. Come celebrate the current success and future potential of entrepreneurship at Startup Maine. You won't be disappointed.